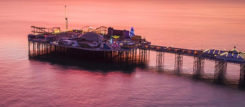 Let Hervé, the proprietor of the New Steine Hotel, talk you through the New Steine Hotel and its recent refurbishment to acknowledge his 21st anniversary.
June in Brighton is packed with musicians from all genres, book now!
This buzzy seaside resort is continuing to evolve into a chic weekend destination. Staying in Brighton has never proved so pleasurable — here's where to choose.
January 2020 | Kemptown Rag
| Brighton | Situated on the western edge of Kemptown's New Steine, the bistro offers diners an evening of elegance at exceptional value. From the art deco lighting to the bespoke art adorning the walls, the restaurant feels like a welcoming mix of piano-lounge cool and homely familiarity.
When you come to Brighton, we're not just all about the beaches, beautiful as they are. Down here in the south of England, our adorable…
Architect and talented illustrator Alej Ez at the New Steine Hotel until 31/07/18.
New Steine Hotel has been selected as a recipient of the TripExpert Experts' Choice Award.
Fewer than 2% of hotels worldwide receive the award.
The lovely Sandy Cadiz-Smith a freelance writer and editor, who specialises in food and travel visited Brighton again recently and stayed with us at The New Steine Hotel.
Featuring for the first time in our exhibition space, an upcoming print maker and local Brighton resident Haydn Stride. At Gulliver's Hotel
An exhibition of trans people, by trans people, for trans people – and everyone else.
If you are trans, life will not have been easy. Your relationships with parents, friends and neighbours may have been fraught. The media will have lampooned you, and you may have had to live some or all of your life in stealth in order to live at all. You might feel dishonest for having done so. Or your secret may have been discovered after a lifetime, and the repercussions may have cost you your health, or your partner, or your children, or your job, or your home. Or all of them.