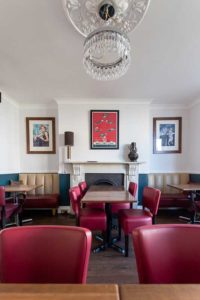 The New Steine Bistro serves our hotel guests with classic and distinctly French dishes at affordable prices. The restaurant recently was awarded the AA Breakfast and Dinner Award in recognition of the outstanding quality and service, with food locally sourced from Sussex farmers and producers.
20% off for our 22nd Anniversary
Enjoy 20% off these menu prices this summer and join us to celebrate 22 years at The New Steine Hotel & Bistro.
Our in-house menu for Summer 2022:
STARTERS
Vegetable Soupe with Bread and Butter £4.95
Mackerel Rillette with Mustard and Piment d'Espelette £6.50
Duck Rillettes £6.50
Foie Gras Pâté £7.50
* * *
MAIN COURSES
Cassoulet with Chicken & Pork Confit £9.95
Beef Casserole Served with Rice £12.95
Pork Sausages Confites with Lentils £7.95
Tuna Basquaise Served with Rice £12.95
Butternut Squash & Red Onion Tagine served with Rice £7.95
Croque Monsieur Served with Chips £7.95
Vegetarian Croque Monsieur Served with Chips £7.95
Supplements
Bread/Butter £1.95

* * *
DESSERTS
Selection of 5 Macarons at £5.95
Vanilla, Raspberry, Pistachio, Lemon, Caramel, Chocolate
Chocolate Fondant £4.95
Lemon Tart £4.95
Boho Gelato 3 Scoops £4.50
Add One Scoop of Ice cream £1.50
* * *
COFFEES
Espresso, Americano £ 1.95
Latte, Double Espresso £ 2.50
Selection of Teas £ 1.75
DIGESTIFS
Brandy, Armagnac, Calvados £3.75
Amaretto, Baileys, Tia Maria, Cointreau £3.95
ANY LIQUOR COFFEE £5.95
Liquor Coffee of your choice
Calypso Coffee (Tia Maria)
French Coffee (Brandy)
Italian Coffee (Amaretto)
* * *
Download the Menu
New Steine Bistro House Guests Menu (PDF 95Kb).
N.B. Items subject to change
If you have a food allergy or intolerance, please speak with a member of staff. Recipe cards are available showing all the ingredients used.
Bistro Drinks Menu
Download here; Drinks Menu (PDF 310Kb).