Welcome to the New Steine Hotel, Brighton
New Steine Hotel is one of the most popular boutique hotels in Brighton, providing a haven from the hustle and bustle of the cosmopolitan city, while our staff are always on hand to ensure your needs are met. Our handy location, with views of the sea and New Steine Square, makes us equally popular for leisure breaks and business conferences.
"New Steine Hotel exudes old-fashioned charm with a Gallic twist and offers excellent service while catering for all budgets. The 20 bedrooms aren't enormous, though there is a sizeable basement suite with its own patio. This double Victorian townhouse overlooks New Steine square and has side views to the sea."

Rated 8/10 by The Telegraph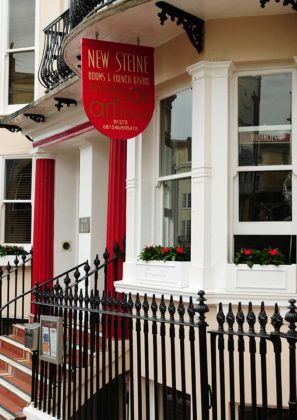 We are delighted with the exterior's new crisp paintwork and our interior's complete refurbishment carried-out during winter 2021.
Celebrate with us! Book direct and receive a 10% – 15% discount.
Dog friendly
We know how hard it can be to find a dog-sitter and how difficult it is to leave your faithful buddy behind when you go away. The good news is, your dog can come and share the trip with you, thanks to our dog-friendly rooms at the hotel.
You won't have to pay any extra for your dog to stay in the room. All we ask is that you do not leave your pet in the room by themselves at any time.
Read an article from Your Dog, July 2020 on Dog Friendly Brighton. It covers where to stay, where to visit and where to eat on a trip to Brighton with you canine pal in tow.
Please call us on 01273 681 546 to book.
View our 2020 video
Last year Hervé celebrated 20 years as proprietor of the New Steine Hotel and has refurbished the entire hotel to acknowledge the anniversary. Here Hervé talks us through the new look, his deluxe sea-view rooms and hotel facilities.
Celebrate with us! Book direct and receive a 10% discount.
The hotel has on-street parking outside and nearby with parking vouchers available at the hotel.