Welcome to the New Steine Hotel, Brighton
New Steine Hotel is one of the most popular boutique hotels in Brighton, providing a haven from the hustle and bustle of the cosmopolitan city, while our staff are always on hand to ensure your needs are met. Our handy location, with views of the sea and New Steine Square, makes us equally popular for leisure breaks and business conferences.
"New Steine Hotel exudes old-fashioned charm with a Gallic twist and offers excellent service while catering for all budgets. The 20 bedrooms aren't enormous, though there is a sizeable basement suite with its own patio. This double Victorian townhouse overlooks New Steine square and has side views to the sea."

Rated 8/10 by The Telegraph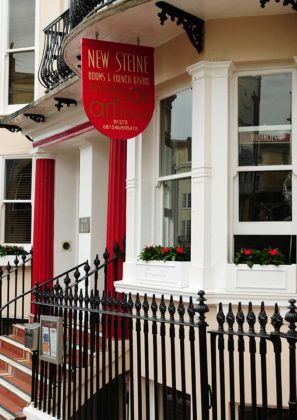 We are delighted with the exterior's new paintwork and our interior's complete refurbishment carried-out during winter 2021.
Book direct and receive a 10% discount.
Book 10% OFF
View our summer 2022 video
Hervé recently celebrated 21 years as proprietor of the New Steine Hotel and refurbished the entire hotel to acknowledge the anniversary. Here Hervé talks us through the crisp look hotel, his deluxe sea-view rooms and hotel facilities.
We are a dog friendly hotel!
We know how hard it can be to find a dog-sitter and how difficult it is to leave your faithful buddy behind when you go away. The good news is, your dog can come and share the trip with you, thanks to our dog-friendly rooms at the hotel.
You won't have to pay any extra for your dog to stay in the room. All we ask is that you do not leave your pet in the room by themselves at any time.
Read an article from Your Dog, July 2020 on Dog Friendly Brighton. It covers where to stay, where to visit and where to eat on a trip to Brighton with you canine pal in tow.
Dog friendly restaurants in Brighton
Here's a run down of restaurants that welcome our four-legged friends with open arms! This list is not conclusive and there are plenty of other eateries that don't mind dogs joining their owners for a meal!
This list comes from our fabulous Restaurants Brighton – a website all about eating in Brighton – the links take you to each restaurants' details.
14 Black Lion Street, BN11ND
01273 711884
161 Edward St, BN2 0JB
01273 686 386
28 North Rd, BN1 1YB
01273 605423
10 Nile Street, BN1 1 HW
01273 525444
81 Trafalgar Street, BN1 4EB
01273 607270
1-3 Prince Albert St, BN1 1HE
01273 328542
28 Upper Hamilton Road, BN1 5DF
01273 556708
27A Cleveland Road, BN1 6FF
01273 502396
218 Dyke Rd, BN1 5AA
01273 074757
41 Whippingham Road, BN2 3PF
01273 682874
58 Southover Street, BN2 9UF
01273 601419
Mackie Avenue Patcham, BN1 8RA
01273 554647
Lost Boys Chicken at The Joker
2 Preston Road, BN1 4QF
01273 675769
100 Ditchling Road, BN1 4SG
01273 235884
32 Egremont Place, BN2 0GA
01273 230635
10, Bell Tower Industrial Estate, BN2 5RU
07548 342 873
183 Kings Road Arches, BN1 1NB
01273 728280
The New Club, 133-134 Kings Road, BN1 2HH
01273 730320
250a King's Rd, Brighton BN1 1NB
01273 746067
Brighton Marina Yacht Club, West Jetty, BN2 5UP
01273 818711
69 Church Road, Hove BN3 2BB
01273 082010
1 Hove Place, Hove, BN3 2RG
01273 737869
13 Farm Rd, Hove, BN3 1FB
1 Hove Place, Hove, East Sussex BN3 2RG
01273 737869
122 Church Road Hove BN3 2EA
01273 747777
8 Third Avenue Hove, BN3 2PX
01273 945 885
119 Church Road, Hove BN3 2AF
01273 778013
---
Book direct and receive a 10% discount.
Please call us on 01273 681 546 to book direct or use the button, right.
The hotel has on-street parking outside and nearby with parking vouchers available at the hotel.
---