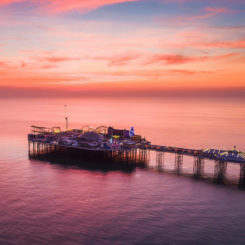 New Steine Hotel is located on the picturesque New Steine Square, just off the Brighton Seafront. In the heart of Kemptown and Brighton, and only a 5 minute walk to the city centre, it is the ideal location to stay.
We are:
1 minutes walk from Marine Parade (seafront road)
3 minutes walk from Brighton Beach
5 minutes walk from Brighton Pier
8 minutes walk to North Laines shopping area
10 minutes walk to Brighton Dome
12 minutes walk to Brighton Centre.
15 minutes walk to Brighton's Churchill Square
Directions
From Brighton train station, a short taxi ride costs approximately £6.00 or the No.'s 7, 14, 27 or 712 bus goes to the New Steine.
By car, the A23 ends at the Brighton Pier. Take a left onto Marine Parade and the New Steine square is the 9th road on the left.
By coach, turn left out of the coach station onto Marine Parade and the New Steine Hotel is a 2 minute walk away.
Parking
Parking in Brighton isn't easy! However the New Steine Hotel offers voucher parking for £8.00 per 24 hours! These vouchers are for the residence bays in the streets surrounding the hotel which are safe and secure. There is also an NCP car park nearby or parking in the Square on the meters (free between 8pm and 9am).