Gin Cocktails at the New Steine Hotel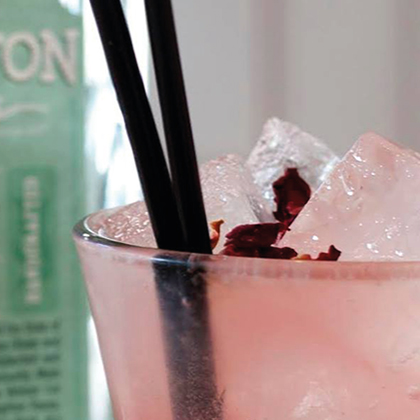 Brighton, with it's mix of cosmopolitan culture and diverse cuisine, has always been ahead of it's time when it comes to the latest trends in food and drink. But when it comes to cocktails, London seems to take the lead. However, where we do excel is with our usage of Gin in many of our unique concoctions.
Always a sunshine drink to be drunk by the seaside, the traditional Gin & Tonic harks back to the 1700s, when soldiers fighting in India would mix Gin with the medicinal properties of Quinine and Tonic to fight off malaria, and they struck gold with the refreshing taste.
With the production of Brighton's own Gin, distilled by the seaside and simply labelled, Brighton Gin, this amazingly refreshing blend has been voted the UK's number one gin of choice. And the New Steine Hotel is a proud server of this drink to our patrons.
Owner, Herve Guyat, a self confessed Gin connoisseur, has created two Gin based cocktails as a twist on the more well known combinations and is happy to launch them this summer at the New Steine Bistro, available for Bistro diners and Hotel guests alike*.
Pink G&T
This refreshing twist on a classic, blends Brighton Gin with pink grapefruit juice, tonic water and basil leaves, to create a truly unique and satisfying flavour.
£9.50
French 75
Bubbles and Gin woven gracefully together in this smooth combination of Brighton Gin, Prosecco and Lemon Juice.
Whether celebrating for a special occasion or simply relaxing in style, this beverage with a fizz is one to be tried. £12.50
*N.B. Proof of age may be required. We operate a 'Challenge 25' policy.
Only available to residents of the Hotel or diners in the New Steine Bistro. Please drink responsibly.