Brighton has long been a popular choice for couples looking for a romantic break!
We're taking bookings now for October 2022!
Get your romantic break booked in for the beginning of Autumn and enjoy all that Brighton and Hove has to offer. Book 3 nights for a 15% discount – use the button below.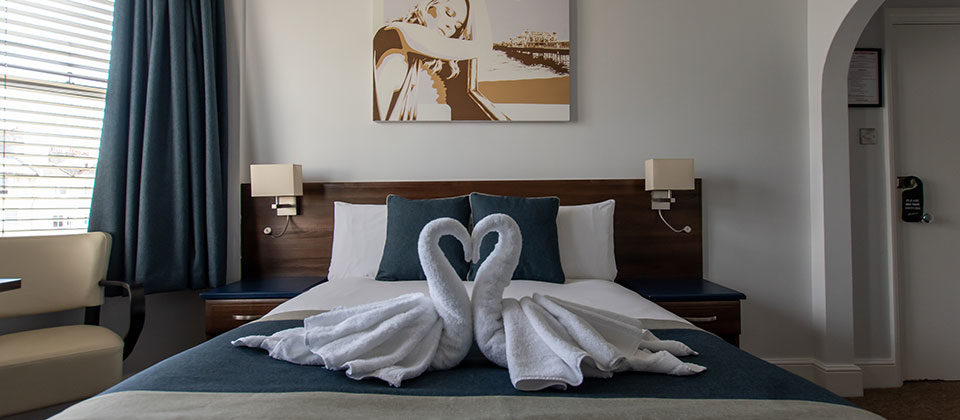 Romantic Breaks in Brighton
Book 3 nights and receive a 15% discount
A vibrant and cosmopolitan seaside city, there is plenty to see and do together while views of the sea help create a dreamy and unique atmosphere. Book direct with us here and be assured of a 15% discount on three nights or more.
To make a romantic break in Brighton even better, stay at New Steine Hotel, where our staff will be on hand to ensure everything is taken care of, leaving you to experience the city and spend quality time together.
Booking just a night or two? – book direct a receive a 10% discount!
Once greeted and shown to your room, we will leave you to enjoy a chilled bottle of Champagne whilst you relax. New Steine has some of the most romantic hotel rooms in Brighton, decorated in contemporary chic with double beds with the softest pillows and décor in chocolate, coffee and cream colours with splashes of dark blue.
Couples Massage
Add a 1 hour & 15 minutes long Couples Massage for only a £139.00
Rates are inclusive for an en suite bedroom, our Award Winning Sussex Breakfast and a chilled bottle of Champagne waiting for you in your room on arrival, as well as 1 free side show on Brighton Pier (per couple per stay) to win your loved one a 'teddy'.