New Steine Hotel & Bistro
Posted by Jodie Wallis on 26th November 2019
Sometimes when you want to go out for dinner, you know exactly what you want. Not just in the way of food, but the service you want to receive and the atmosphere you want to eat in. The New Steine Bistro in Kemptown has such a classically unique personality of its own, once you've been introduced, it's a place your mind will turn to again, and again. So on a wet and windy Wednesday evening, when my husband Tommy suggested we go out for dinner after work, I knew exactly what I wanted…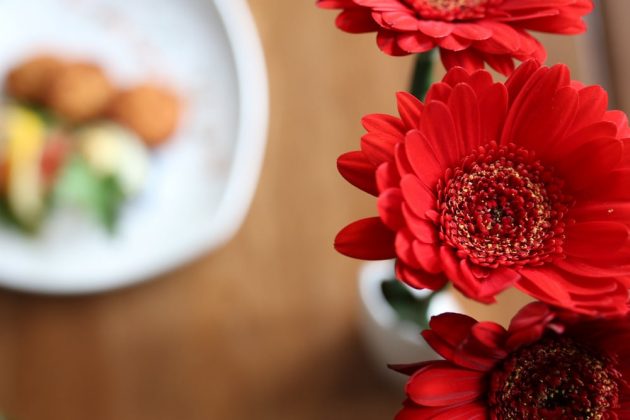 French. Flavour. Flair.
THE SPECIAL GUEST
The first thing you'll notice about the New Steine, before you've even stepped through the door, is that you can't. Step through the door I mean. You have to ring the bell. Already, you know that this isn't just your standard restaurant. It makes you feel like a special guest. And that's exactly how the owner Hervé and the rest of his team make you feel, from start to finish.
GRAND INTERIOR
Welcoming us like old friends, Hervé showed us to our table for two by the beautiful Victorian bay window at the front of the building. The restaurant is more like a Parisian living room with a bar at one end. My eyes instantly go to the funky, French art on the opposite wall and the blingy 50's style standing lamp which gives the room a soft, romantic hue. The music playing in the background is soothing after a long, hectic day at work. No lyrics, just relaxing tones to melt into. As it's a Wednesday evening, we weren't planning on having a lot to drink, but felt it was wrong not to have one glass of a really good French red.
The wine menu has a lot of interesting choices, but what I liked the most was its inclusion of half bottles. I haven't seen half bottles on a wine menu in a long time. So we ordered a half bottle of Beaujolais.
It was beautiful. Dark, rich and juicy.
For food, we both decided to go fish for starter and meat for main. The signature starter of crab cakes with homemade tartar sauce for Tommy and a favourite smoked mackerel rillette with warm toast for me.
STUNNING STARTERS
The crab cakes were beautifully married with the crispy, crunchy texture of the breadcrumb coating and the meltingly soft crab meat mixture in the middle. Served with a french dressed side salad, a ridiculously creamy tartar sauce and an unusual garnish of crispy noodles. There were three crab cakes on the plate, and each one was a perfect mouth-sized portion.
The smoked mackerel rillette was served in what looked like a tall, shot glass, garnished with a side salad and four warm, golden, granary triangles. The rillette was creamy and buttery as you expect it to be, but also had a meaty robustness to it which I liked. I don't want it blended to within an inch of its life. I still like to be able to tell I'm eating fish which I certainly could. Delicious.

Already fairly satiated, we sat back and waited for our mains and savoured our French wine, enjoying the atmosphere.
Everything about the New Steine is intimate and warm.
SPECTACULAR SERVICE
The owner Hervé is very much present and involved in every aspect. From answering the door to showing you to your seat and bringing your food, he certainly knows a thing or two about French hospitality. Listening to him talking to the other guests, you get the feeling he's known each of them for many years. When deciding on our mains, Hervé went out of his way to find out exactly the kind of thing we were in the mood for and made recommendations based on that, rather than the other way around which so many restaurateurs tend to do.
FRENCH FLAIR
Both big believers of 'doing as the Romans do' or in this case 'doing as the French do' we chose typically French-inspired dishes: duck confit with gratin dauphinoise and Sussex braised pork cheeks à la bourguignon with mashed potato. The duck on the menu actually comes with sautéed new potatoes but Hervé suggested we try the gratin instead. As soon as he said it, I nodded in complete agreement. Although it was Tommy's dish, I knew he would love it, and would (reluctantly) allow me a taste – any excuse to taste gratin dauphinoise, especially in an authentic French restaurant.
Potatoes, cream and cheese. A marriage made in heaven.
LIKE GUESTS AT A DINNER PARTY
You don't feel rushed at the New Steine. Just as you wouldn't expect to feel rushed at a friends house for dinner. One of the things that are guaranteed to put me off a restaurant is when each course comes out one after another like on a conveyor belt. The spacing between meals here is perfectly timed.
When both plates were placed on the table, our senses were overwhelmed. Beautifully presented and the smell of both dishes were tantalising. Tommy wasted no time in digging in, and after his first mouthful of duck, he looked up at me and grinned. I always know when Tommy is bowled over by a dish because his inherent instinct for not sharing his food is overtaken by his need for me to know what he's talking about! Luckily for me! The duck was very tender and juicy. Duck confit can very easily dry out, and Herve told us that the Chef had started to include a pot of jus on the side to counteract this, but both Tommy and I agreed that it wasn't needed. Savoury and moreish, it was delicious. Accompanied by the creamy, rich potato, it really was a stunning dish.
Now for the Sussex Pork Cheeks.
Served in a deep bowl with a small side of buttery mash, this dish was absolutely made for wet, wintery Wednesday evenings.
The cheeks fell apart at the slightest graze of my fork.
The bourguignon sauce the cheeks were nestled in was everything bourguignon should be, in my 'humble' British opinion; rich, warm and comforting.
ROOM FOR DESSERT?
Both with huge, sleepy smiles on our faces, all thoughts of the chaos of our working day were gone. Extremely full, we contemplated dessert. Always a hard course to dismiss, we agreed to share the chocolate mousse. Classic but still french. Thoughtfully, the mousse was served as two scoops on the plate, two florets of whipped cream and two spoons. It was smooth, sweet and billowy. Just enough sweetness to bookend the meal.
So the next time you're looking for somewhere you can enjoy high quality, flavoursome, authentic cuisine in a relaxed, intimate and friendly atmosphere, head down to Kemptown and ring on the bell at the New Steine.