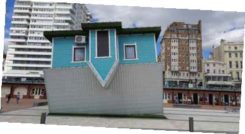 Paloma Lacy writes for London News Online about her long weekend in Brighton with a young family. We were delighted to welcome her as a guest at the hotel.
Here Paloma writes a weekend roundup of best places to visit, eat and stay.
Visit the St James Quarter, where The New Steine Hotel & Bistro are located, on your next visit to Brighton for some of the best independent bars, eateries and hotels.
Read a review of St. James Quarter, Brighton published in The Argus, Brighton, Sept. 29th 2022.
Regular performer at Brighton Fringe and well-known for her award-winning representation of Ms Dietrich, Patricia Hartshorne is bringing her back due to popular demand.
Cabaret and Circus with Miss Evey-Theodosia Hammond
Sisters of Avalon: Lullabies for Lover and Sinners at the New Steine Hotel, 10-11 New Steine, Brighton BN2 1PB
May 8 & 15 (6pm) and May 6, 7, 13 & 14 (8pm). Tickets £10.
Queer Side Story is a tribute to West Side Story with a queer twist. A celebration of Queers, Queens, Gays and Trans from Yesteryear and Nowadays. New Steine Hotel (Basement), May 27 & 28 (8pm): May 29 (5.30pm): June 3 (8pm): June 4 (8pm): June 5 (5.30pm)
Cost: £10.