New Steine Hotel Proprietor's Biography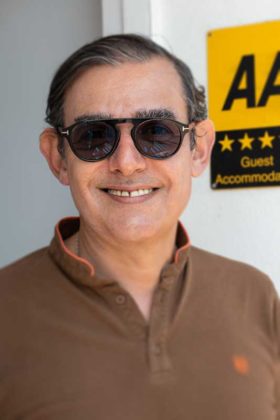 My name is Herve Guyat, owner of the New Steine Hotel & Bistro and Gulliver's Hotel. I wanted to start this blog to share my passion for food, restaurants, art galleries, theatre, Fringe performances, bars and clubs around Brighton.
I come from Biarritz in the South of France and moved to the UK twenty five years ago when I started my career in fashion at the prestigious Bond Street and Sloane Street, working for Valentino and Cacharel.
I guess this is where I first got my eye for detail and beauty. I was first employed as sales assistant but was soon promoted to buyer and boutique manager in Sloane Street. This involved creating the ambience, helping with window dressing and the overall appearance of the Boutique. We wanted to create a glamorous and inventive look. I was spending my entire time making the men and women feel good wearing our collections; they needed to be surrounded by a décor to match.
https://www.visitbrighton.com/blog/read/2022/10/herves-wishlist-b138
In 1990, I left the fashion world and moved to the Hotel business. Boutique hotels did not exist back then, they were called town house hotels. I first worked at the Abbey Court Hotel in Pembridge Gardens, part of the trendy Notting Hill Gate. The hotel was mainly used by fashionistas and designers such as John Galliano who felt at home with our English charm and modern décor. This was my first inspiration. Looking around me at what the owner had done by mixing Laura Ashley and new England with original oil paintings, Villeroy & Boch china, antique furniture and bibelots displayed in different areas, including bedrooms, creating an exclusive home from home. Our reception and greeting approach was not conventional; we would sit down with guests to fill in their registration cards, giving them the feel of having their own personal butler. We wanted to differ from the large four and five star hotels by making people feel special and unique.
After a few years in town house hotels, such as 57 Pont Street in Knightsbridge, I decided to work for the Royal Thames Yacht Club in Knightsbridge to further my experience. I was intrigued whenever I heard about private members clubs. Being French, I was fascinated by the way these establishments were being run. Some staircases and bars were for the exclusive use of men. Everything was very formal. While I was used to Diana, Princess of Wales coming to Valentino, here, whenever a member of the royal family came in it was official. At the Royal Thames I learned to greet customers in a more formal way, using their titles, perfecting my hospitality skills.
After a year it was time to hit the larger four and five star hotels in central London starting with Harrington Hall and the Westbury in Conduit Street, Mayfair all ranging above two hundred rooms.
This is where I learned how to work on busy reception desks dealing with the needs of corporate guests. I also trained in all departments including restaurants, gym, spa, beauty, rooms and conference facilities. At the same time, I was hosting the famous Pelican restaurant and Brasserie on Saint Martin's Lane. I loved working at the Pelican; most of our clients were West End musical, theatre or opera comedians and their followers. I learned all about the food and drink trade as well as the night life people.
My last London job was the opening of the Hyde Park Ryan Hotel. This was to be the flag ship hotel of the Irish company, Ryan Hotels. I was employed as room division manager taking on the full refurbishment of the two hundred bedrooms as well as all the public areas, bar, restaurant, conference facilities and the gym. It helped me understand how to design a room in a practical way with all the necessities guests require.
In the year 2000, I moved to Brighton to open the New Steine Hotel and put all my expertise into opening my own Boutique Hotel. This explains why I have used the stylish but very personal décor with a French flavour. Over the years, I expanded by buying three more properties, one of which I incorporated into the existing New Steine. I also added a warm welcome and quirky entertainment, which includes stunning art exhibitions, cabaret nights and our popular Supper Club.
When I refurbished the New Steine in 2007 I took a step back on all the above and with my vision, I tried to upgrade a boutique hotel with my own inspiration. I had a beautiful Georgian property to play with and that was the start of mixing an old 1850 building with modern features such as the red pillars as you come in or the crystal chandeliers in all of the public areas. My second commitment was to offer excellent food. We choose to use local products in everything we cook from breakfast to dinner. Another important element was to have regular exhibitions as well as having my own Art collection scattered around the hotel. Finally, I wanted to have the occasional show during the Brighton Fringe Festival.
Hervé recently celebrated 22 years as proprietor of the New Steine Hotel and refurbished the entire hotel to acknowledge the anniversary. The hotel was ready for reopening after the worst of the pandemic. The refurb. included a complete overhaul of the interior and the exterior repainting.
We are absolutely delighted with the finish and our lovely, bright, fresh and airy colour theme to match our relaxed atmosphere and crisp city vibes.
View our summer 2022 video here where Hervé talks us through the crisp look hotel and the deluxe sea-view rooms and hotel facilities.
The hotel lives with Brighton and what is happening in the city, always taking part in every event.
Come and join us, you'll be well looked after!
View our Latest Special Offers here…
---
Hervé Guyat's Q&A with The Argus newspaper – Sept. 2022
Hervé was recently interviewed by The Argus for their Taste – The Best of Sussex Food & Drink section.
Here, Hervé talks about his passion for Brighton and his favourite places to visit. Click on the image below to read full size, or visit the link at the foot of the article.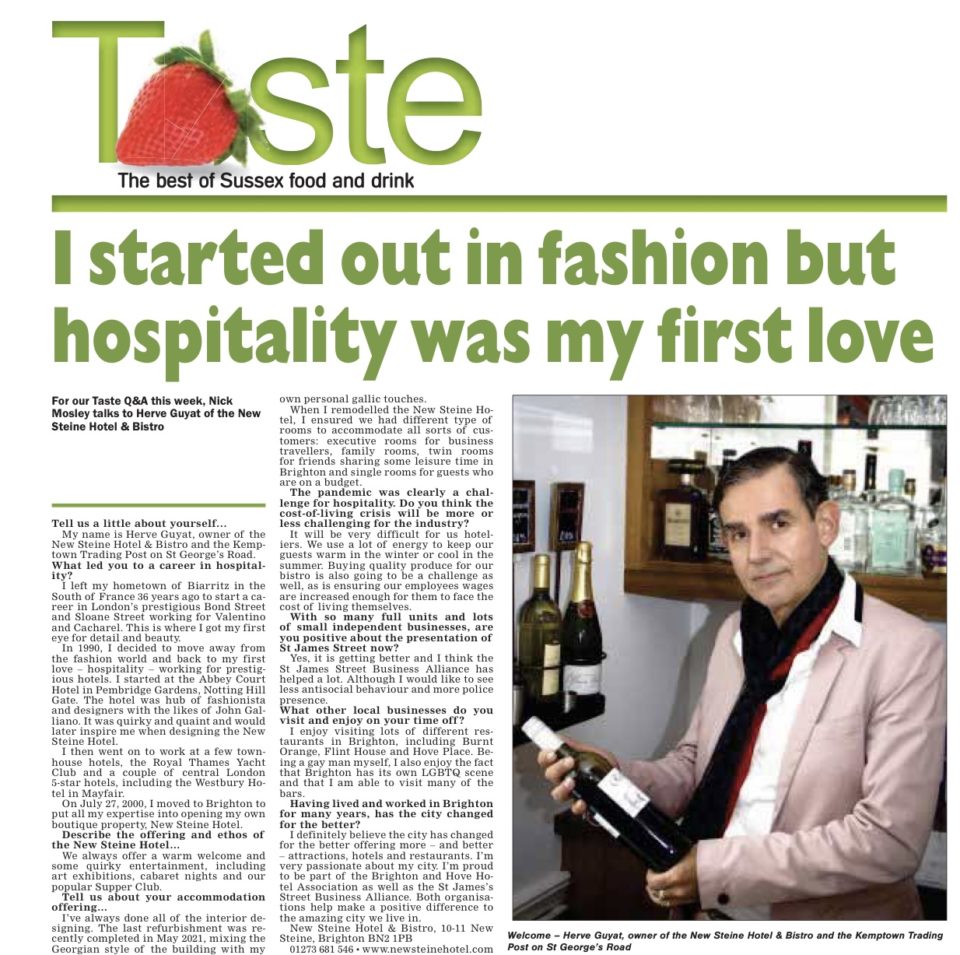 You can also read this article via The Argus newspaper here:
https://www.theargus.co.uk/news/22563001.herve-guyat-new-steine-hotel-bistro–q/
---