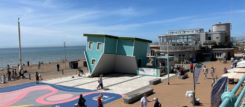 Something for all ages Our city is jam-packed with activities throughout the year, for all ages. Enjoy time with romantic partners or family and friends and chose…
Quick round-up of some of the best events happening in December 2023. Go on, book yourself and friends tickets for a seasonal treat!
Brighton has always been a magnet for families. With its famous beach and pier and large variety of shops, events and things to do for…
When you come to Brighton, we're not just all about the beaches, beautiful as they are. Down here in the south of England, our adorable…
Paloma Lacy writes for London News Online about her long weekend in Brighton with a young family. We were delighted to welcome her as a guest at the hotel.
Here Paloma writes a weekend roundup of best places to visit, eat and stay.
Brighton has always been a romantic city, and couples flood here year round to enjoy the wide variety of activities on offer. Whether you are…
When is Gay Pride in Brighton?
This year, the festival is taking place from Friday 5th August – Sunday 7th August included.
Once again Brighton Pride has pulled out some big names such as Christina Aguilera, Ella Henderson, Todrick Hall, Paloma Faith, Jake Shears Sophie Eliss-Bextor, Bjorn Again and more…
Brighton is full of amazing eateries and we have decided to start recommending our favourite one's for you to try when staying at the New Steine Hotel. This month, we brunched with my cousin Stephane at 'Lost in the Lanes'.
This buzzy seaside resort is continuing to evolve into a chic weekend destination. Staying in Brighton has never proved so pleasurable — here's where to choose.
In all my writing and reading blogs about things to see and do in Brighton, you have everything from best places to stay, greatest attractions,…
You wouldn't think of castles and ruins when you think of our vibrant city, however Brighton and the surrounding coastal towns were instrumental in defending…
Nothing beats the smell of freshly roasted coffee in the morning. As you explore the little roads and lanes throughout the city, at every corner…
Sussex has some of the most picturesque landscapes in the UK and with them being so accessible from Brighton, here is my list of the…
Dog Friendly Beaches in Brighton Two of my loves in all this world are, firstly, obviously, Brighton, this amazing multi-cultural city I live in, but…
Brighton is known as a place to party, and appeals to the younger crowds, thanks to the range of pub and clubs. However, there are…
Brighton is a diverse resort town. This is clear from the wide variety of restaurants, cafes, bars and clubs spread throughout. Whether you are in…
Brighton has long been known as the gay capital of the UK. Our seaside resort town is extremely open-minded — people dress as they want,…