Solo musical cabaret exploring genderqueer identity with songs and drag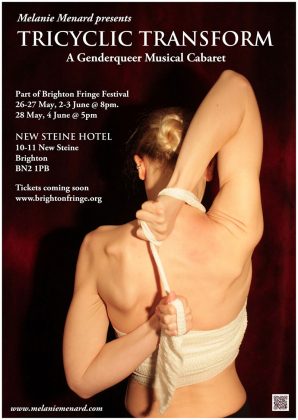 Miss Liliane, 'biologically-challenged drag-queen', has penis envy and that makes her slightly unhinged! Join them round the gender wheel as they try on alternate personas by performing iconic torch songs.
From heart-wrenching jazz diva standards to the pissed-off ladies of gritty blues and Brecht, from the broken men protest songs of Johnny Cash, Scott Walker and Jacques Brel, to the empowering queer anthems of Marc Almond and Boy George, with sprinkles of 'Victor Victoria' and 'La Cage aux Folles'.
Time: 90mins, inc. 15 minute interval
Ticket prices – £10.00
Dates:
Friday 26 May, 8pm
Saturday 27 May, 8pm
Sunday 28 May,

5pm

Friday 2 June, 8pm
Saturday 3 June, 8pm
Sunday 4 June,

5pm