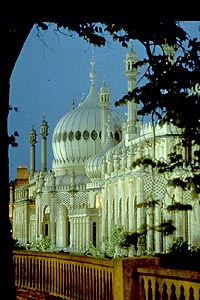 Over the years we have received numerous awards and accolades in recognition of our levels of service and facilities.
AA Breakfast and Dinner Award
In recognition of the outstanding quality and service of our New Steine Bistro, with food locally sources from Sussex farmers and producers.
We have been recognised to provide a Sussex breakfast, which is made from at least 60% of local seasonal ingredient. You can taste the difference!
Trip Advisor
We have gathered over 700 reviews over the years and consistently gain 4/5!
For media enquiries
Please contact:
Hervé on +44 (0)1273 681546.
The following is a list of the most recent and prestigious of these: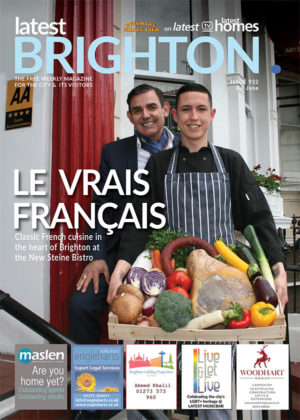 A Stay at The New Steine Hotel
February 2018
New Steine Hotel Winner of 2018 Experts' Choice – Award Winner 2018
New Steine Hotel has been selected as a recipient of the TripExpert Experts' Choice Award.
December 2018
---
April 2017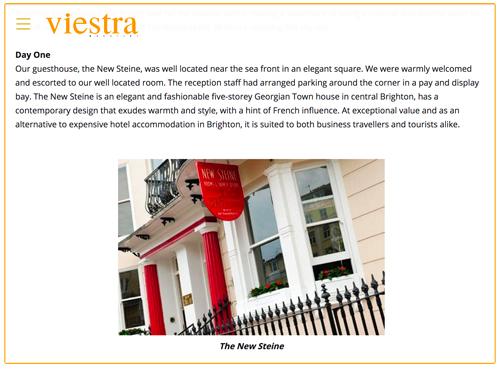 Viestra Magazine's Annamarie Frankland spent 36 hours in Brighton, checking-out all it has to offer and stayed at our very own New Steine Hotel.
Here is her review;
viestramagazine.com/brighton-annmarie-frankland
The Telegraph
Travel Destinations, Spring 2017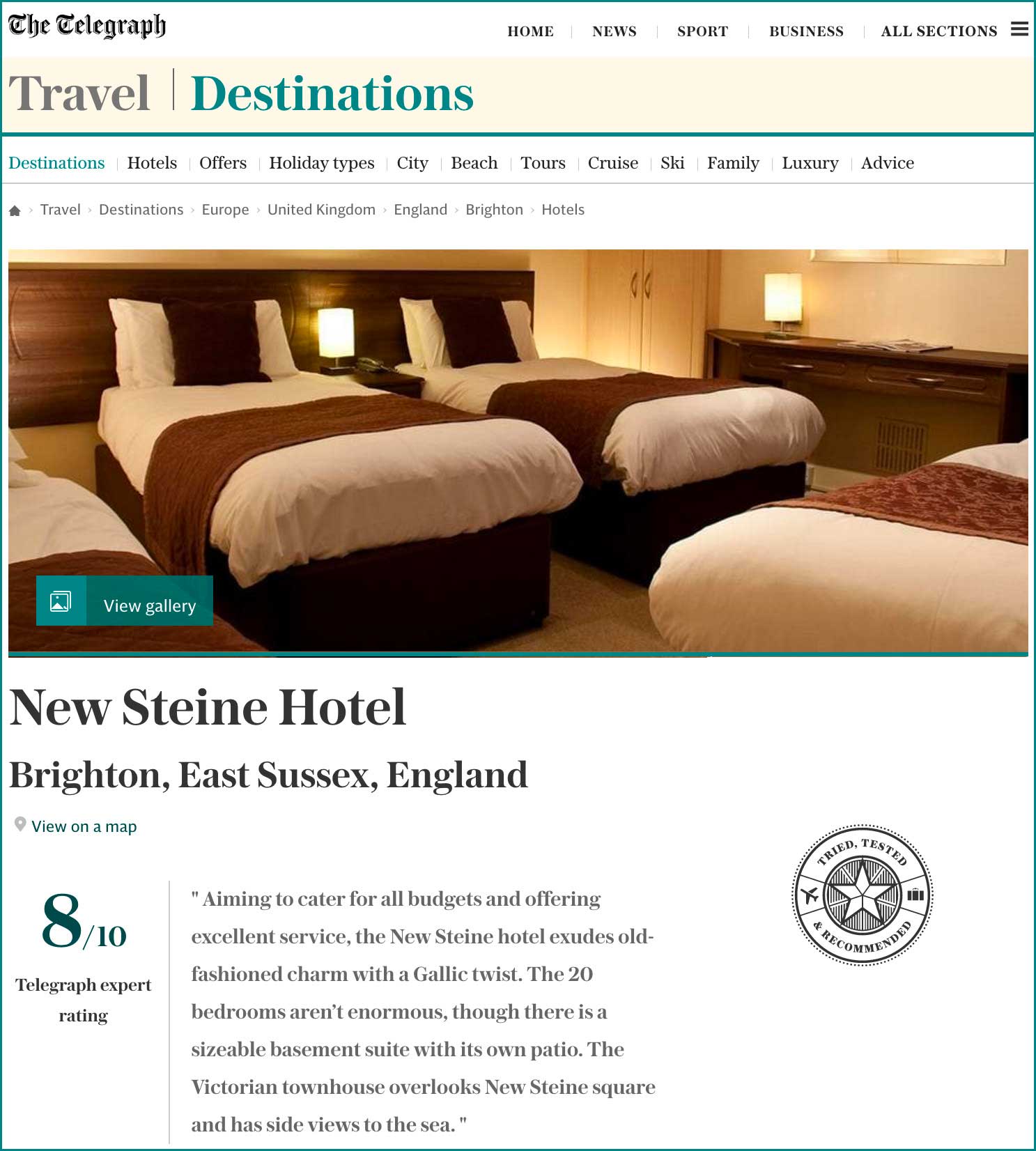 The Express Newspaper
Travel Supplement, Summer 2016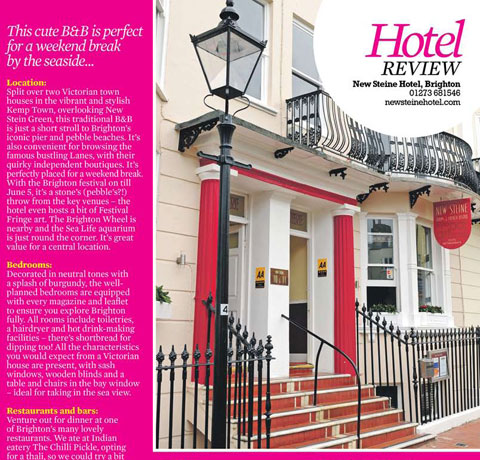 Seen in the City
Online review, Spring 2016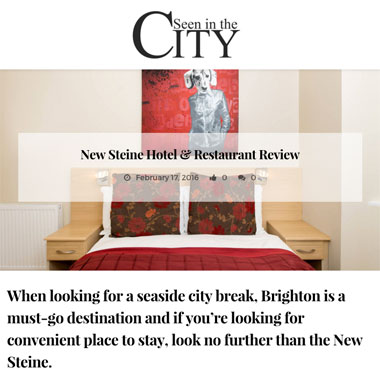 Read the full article online here – www.seeninthecity.co.uk
Or download the PDF here – Seen In The City New Steine Hotel Review.
Maxi – French Periodical
Summer 2013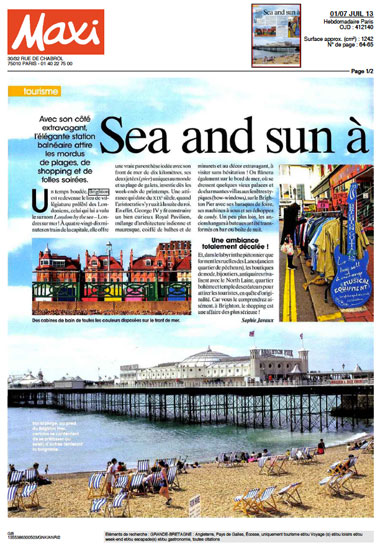 New Steine Hotel has also been voted by Venere.com's users as Top Overall Ratings 2013
This award is exclusively determined by Venere users' feedback and only 5000 properties out of 135,000 across the world are receiving it right now.
https://www.venere.com/inns/brighton/inn-new-steine/.
Trip Advisor Certificate of Excellence 2013
To find out more about what people have said about the award-winning New Steine Hotel, please visit our TripAdvisor page.
Funky Red Dog Exhibition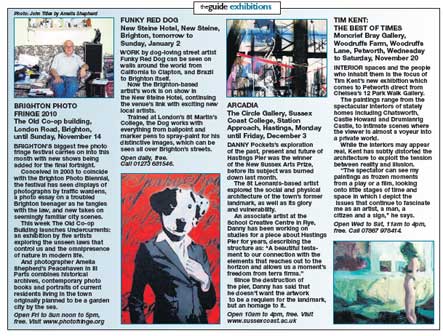 Peter Morris Review – at New Steine Hotel
Brighton's Arty Magazine, Summer 2010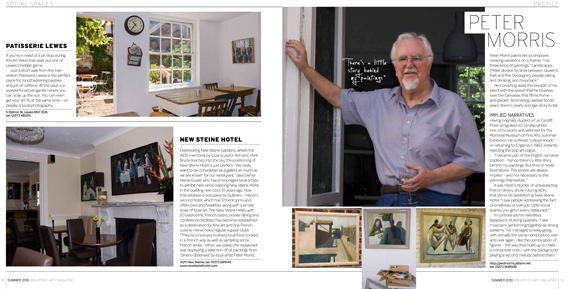 Tetu – Voyage, Brighton OK
Parties, Summer 2010
Latest 7, Hotel & Restaurant Review
Spring 2010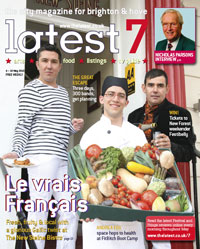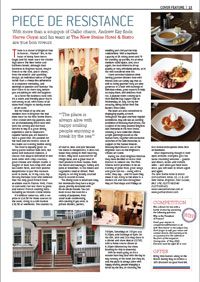 ---
Defibrillator donated by Streamline Taxis
Hervé Guyat, hotel properitor says – "What a wonderful gesture for Streamline to donate this life saving piece of equipment to benefit everyone in the local community. At the New Steine Hotel we operate a 24 hour porters service so no matter what time the machine is needed it will be accessible at all times of the day and night."
Read the article here in G-Scene.