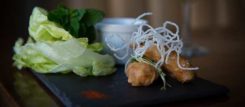 The New Steine Bistro is popular with travellers and Brighton locals alike, serving classic and distinctly French dishes at affordable prices. The restaurant recently was awarded the AA Breakfast and Dinner Award in recognition of the outstanding quality and service, with food locally sourced from Sussex farmers and producers.
Our a la carte menu for Summer 2020 showcases the talent of our team of chefs and will have you coming back for more.
20% off for 20 Years Anniversary
Enjoy 20% off these menu prices this summer and join us to celebrate 20 years at The New Steine Hotel & Bistro.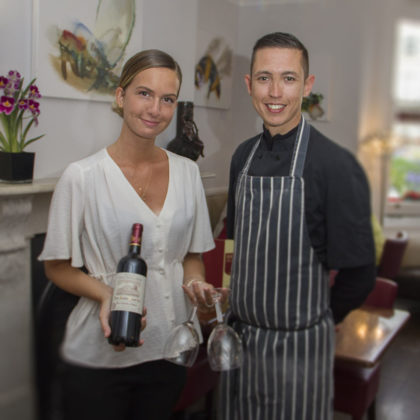 STARTERS
Tarte du Jour £5.75
Soupe du Jour £4.95
Assiette de Charcuterie – sharing plate for 2 persons £13.75
(Saucisson, Chorizo, Bayonne Ham and Duck Rillette Pate with warm toast)
(supplement of £2.50 when part of the specials / offers)
Chicken Liver Parfait with warm toast £6.50
Duck Rillette Pate served with warm toast £6.50
Crispy Chicken Rolls served with Lettuce & Mint Leaves £6.95
Crab Cakes served with Homemade Tartare Sauce £6.95
Smoked Mackerel Rillette Pate with warm toast £6.50
Deep Fried Salt and Pepper Squid served with lemon Mayonnaise £6.95
Escargots in shell with garlic butter £7.95
* * *
MAIN COURSES
Special Fish & Meat of the Day (see our menu du jour) £12.95
King Prawn Flambé au Pastis served with Pilau Rice £16.95
(Supplement of £2.50 when part of the specials/ offers)
Locally Caught Place Fillet Meunière served with Crushed Potatoes £14.50
Ribeye Steak with 'Beurre Maître D'hôtel', salad and chips £17.50
(Supplement of £2.50 when part of the specials/ offers)
Chicken Ballotine stuffed with Seasonal Vegetables, served in a Mustard Sauce with Gratin Dauphinois £14.50
Duck Confit served with Sauteed New Potatoes £15.95
Sussex Braised Pork Cheeks à la bourguignon served and Mashed Potatoes £14.75
Vegetarian Wellington with gravy served with salad £12.95
Selection of Omelettes served with chips or salad £9.95
Choose from: Tomato , Mushroom , Cheese Sussex Ham
Supplements
Bread/Butter £1.95– Olives £1.50 – Seasonal Vegetables £2.95 Salad £2.95 – Chips/Gratin Dauphinois/New Potatoes £2.95

* * *
DESSERTS
Peach Tiramisu £5.95
Crème Brulée £5.95
Chocolate Mousse £5.95
Lemon Meringue Tarte £5.95
Apple Crumble £5.95
Ice Cream £4.50
COFFEES
Espresso, Americano £ 1.95
Latte, Double Espresso £ 2.50
Selection of Teas £ 1.75
DIGESTIFS
Brandy, Armagnac, Calvados £3.75
Amaretto, Baileys, Tia Maria, Cointreau £3.95
ANY LIQUOR COFFEE £5.95
Liquor Coffee of your choice
Calypso Coffee (Tia Maria)
French Coffee (Brandy)
Italian Coffee (Amaretto)
* * *
Download the Menu
New Steine Bistro Menu A La Carte (PDF 198Kb).
N.B. Items subject to change