Here's our guide to special events in Brighton & Hove this new year
With events suitable for families and romantic couples alike and only a short hop, skip and a skate to the locations from the New Steine Hotel.
Whilst sorting out your tickets, why not get your room booked so you can enjoy more of what Brighton has to offer by staying a little longer. We offer some amazing weekend and midweek winter rates – so get booking now for a great break-away!
Call us to book direct and get the best rates on your Brighton winter break at the New Steine Hotel – 01273 681546 / 01273 695415.
Royal Pavilion Ice Skating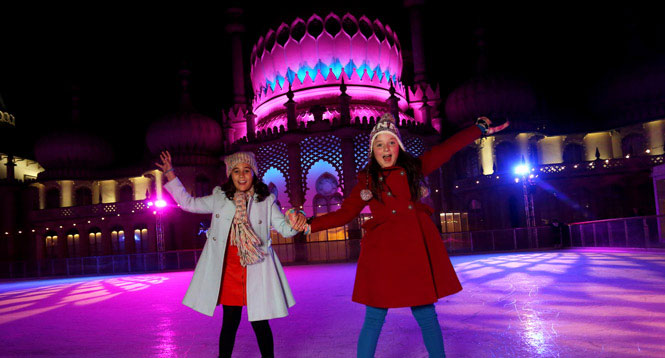 We're so excited with the return this year of the Ice Skating Rink at the wonderful Royal Pavilion.
The ice rink is a stunning, twinkly, romantic, child-friendly venue and open to the public this season until Jan 9th, 2022.
With the beautiful and iconic Royal Pavilion as an awesome backdrop, this 700 metre spectacle can take up to 200 skaters at any one time, and is a not-to-be missed experience for young and old.
This stunning and magical experience is complemented by the Rinkside Bar & Kitchen, offering delicious snacks and main meals, as well as rink-side warmers such as Hot Chocolate and Marshmallows – for both the kids and the grown-ups.
And this year it promotes a greener Christmas in Brighton with ice powered entirely by Green Energy! Bravo! The Royal Pavilion Ice Rink – we can't wait to see you all back on the ice…
Tickets cost from £9 to £15 with family discount at £40 for 4 people, student and members offers also available.
Pre-booking is advised.
More details here: royalpavilionicerink.co.uk.
---
Brighton Events
What's On in Brighton New Year 2022
And our very own New Steine Hotel round-up of things to do this January 2022 in Brighton & Hove can be found here.
---
Coppa Club Igloos in Brighton Square!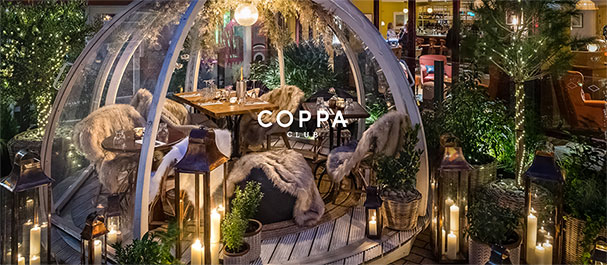 Coppa Club Igloos in partnership with Champagne Laurent-Perrier.
Bookings until 23rd January 2022 can be made now.
Spend some time with loved ones whilst sipping on the finest pink fizz under a canopy of lanterns. It's time to make the most of the winter season in your own private Igloos.
As the nights grow colder feast on your Coppa favourites alongside indulgent Igloo specials and bask in a luxurious pink and green haven, whilst clinking glasses of Champagne Laurent-Perrier.
A minimum spend of £25 per person will apply Monday to Sunday from 11am to close. This is not applicable to children.
Just a 12 minute walk away from the New Steine Hotel!
More details and booking here: coppaclub.co.uk/brighton/
---
Brighton Lifestyle
There's always the shopping!
With great boutiques lining the streets of the North Laines and high-end high street brands in the Lanes – south of the North Laines! There's something for everyone's budget and taste. Read our blog on the best shopping in Brighton here.
Or the Eating!
Brighton has a plethora of eateries – from top-notch restaurants to great tea and cake shops and bespoke ice cream parlours. We have got it covered! So much so, we have our own Brighton Restaurants dedicated website here.
---